How to Make Your Wedding Truly Memorable…
Try These Fun Ideas!
When was the last really fun wedding you attended?
More importantly, what made it so fun?
The answer to that last question can be used to create your own memorable wedding.
Yes, you can "borrow" ideas because anything old can be new again. You can also put your personal spin on any of these ideas which would make them truly unique. Although there have been plenty of viral wedding videos don't think you have to be in competition. Just have a day/night that is comfortable and fun for you and your guests. Having a memorable wedding doesn't mean you need to go broke. Here are some truly fun and tested ideas for a memorable wedding.
Interactive Food Bar
If you're going to have a formal sit-down dinner then this might not be for you. On the other hand, you could set up a couple of food stations that let your guests "make their own." Things like ice cream, omelets, crepes or even grilled cheese can be set up as food bars. These can be manned by a chef type or you can just let your friends "have at it." Speaking of food bars, consider a candy bar to great the guests as they head into the reception. These can be jars/bowls of all the classic treats you grew up with and share with your spouse.
Photo Booth
You'll probably have some traditional wedding snaps and a roaming photographer capturing the action during the reception. However, you could also set up a photo booth station off to the side that you guests can wander over and take selfies. What are really fun will be the surprise snapshots you'll discover after the honeymoon. Because we're in a digital age, you can be snapping photos all night long with missing a moment.
Pick A Different Kind of Venue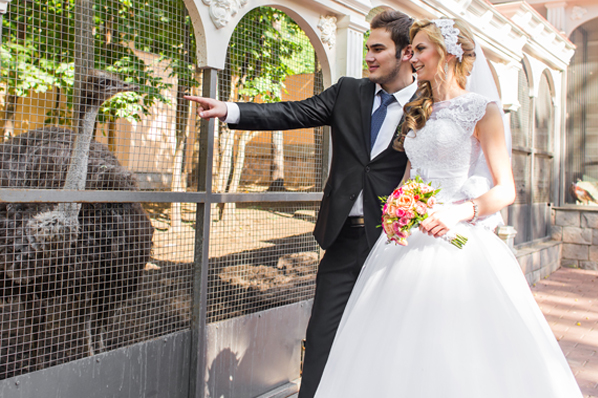 A zoo wedding? A museum wedding? A floating wedding? There is no reason why you need to stick with a traditional hotel or catering hall affair. Start poking around and see what you can come up with. Chances are there are dozens of unique venues in your neck of the woods which would be happy to host a wedding reception.
Think Fun Food
When it comes to wedding receptions you often have the choice of fish or chicken. Sure, these can be tasty but not very memorable. Why not think outside of the food box with a theme? You could go Cajun, Southern or Thanksgiving. A brunch buffet is also a good option especially if you're having a wedding during the day. You might have to shop around for a caterer who is with the program but they're out there.
Are you ready to make your wedding a wonderful memory?